Vinawax Honey
Vinawax 100% pure natural Honey meets the quality standards of the domestic and overseas customers.
The collecting and preliminary production process:
Vinawax honey harvested from Apis mellifera bees breed and collected from the company's bee farms throughout Vietnam, then transported to our facility to classify, analysis, filter and settle carefully.
Production Honey Procedure
- Production Conditions:
+ Healthy bees,
+ Harvest crop
- Production process: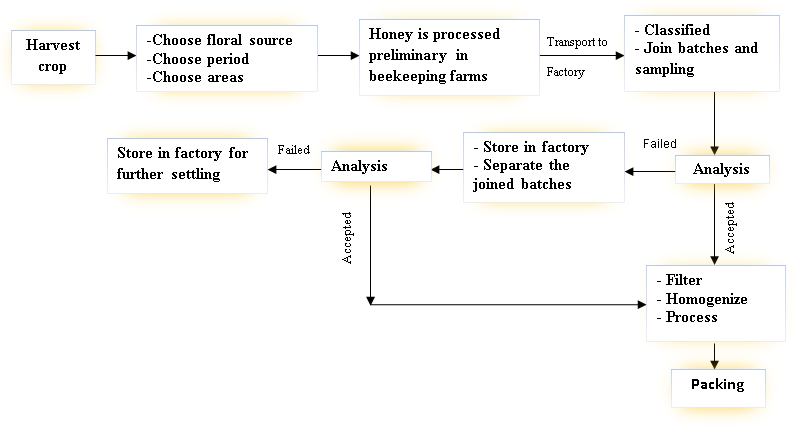 Quantity and quality: We are one of the companies headed honey exporting in Vietnam with the average annual export quantity 2.000-3.000 tons. Quality is always the first and main requirement of the company. So quality management and traceability are applied from the input to output of products including beekeeping, collecting and processing. All steps are closely controlled let create the best quality products fully able to satisfy the requirement of customers and safe for consumers.
Supply capacity: 200-300 tons / month ≈ 10-20 container 20ft.
Packing: Honey is packed in new steel drum of 300kg net, lacquer lined and suitable for the containing of foodstuff, 65-70 drums / 20ft container, or packing to customer's requirements.
Export markets: Vinawax honey has been serving for export demands, the main markets include USA, EU, Japan, ...